About Foxmoor Pet Care
Foxmoor Pet Care is a family owned and operated pet care center celebrating over 26 years of business. Our mission is to offer the best in quality care for your beloved pets. Foxmoor will provide first- rate pet services at incomparable prices serving the Northwest Houston area including Tomball, Magnolia, Cypress, Spring, and even Waller.

Teri Boyd, owner, was reluctant to leave her Golden Retriever, Foxmoor's Fancy Fletcher, with anyone since there was no facility at the time that met her exacting standards, hence the name Foxmoor. So Teri set out to build one that she would feel comfortable in boarding her pets. Susan Boyd, Teri's younger sister and co-owner, joined the business and has been a valuable addition bringing the business and technical skills to the team.

Foxmoor Pet Care had its humble beginnings in July 1988, when Teri realized her lifelong dream of operating a full service pet boarding, grooming and training service. Teri has received numerous prestigious awards in several categories of dog shows and performances.

The facility has grown from the initial 6 suites in 1988 to more than 70 suites presently. Foxmoor Pet Care now offers mobile grooming and daycare. Our facility is located on 7 spacious acres and can accommodate approximately 90-100 pets. We take great pride in knowing that we are giving all of our four-legged friends the special attention that they deserve.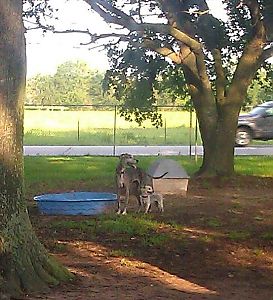 Why Choose Foxmoor?
Serving our area since 1988
We'll know your dog by name
Professional & attentive staff
Multiple accommodation options
Fun-filled dog park on 7 acres
Mobile grooming salon
Owners live on-site
Professional Affiliations